Crystal Palace 2 Arsenal 3:
The Chilean showed some of the magical touches which made him such a threat last season as the Gunners wobbled but came through
Remember Alexis Sanchez? The punchy Chilean with the burst of pace and the gift for scoring goals no one else could see? He has drifted away from his best self this season, seemingly distracted, disaffected and counting down the games before he can leave Arsenal, whether next summer or even next month.
But here at Selhurst Park, in the bitter cold and quite out of the blue, Sanchez gave a ferocious reminder the player he is, what he can do and how good he can be. No one was expecting it at 1-1, with Arsenal just having conceded an equaliser to Andros Townsend, looking like they were giving serious consideration to throwing away a game they had under total control.
Then Sanchez smashed in his first, stabbed in his second and four minutes later Arsenal were 3-1 up. It was Sanchez' first brace for more than seven months, his best moment of a season in which he had only scored six goals before today. It felt like a flashback to a previous season, back when Sanchez was still committed to Arsenal and they could call on the full force of his inner power.
That is how it was for those four minutes here this evening, a burst that seized back control of a game that might have drifted away from Sanchez's side. For a player who has ducked responsibility too often this season, this was an emphatic reassumption of it.
Sanchez's first goal, putting Arsenal back in the lead, was all about power and audacity. Lacazette held up the ball just inside the box, teeing Sanchez up and he drove it the fastest way to goal: through James Tomkins' legs, through Speroni's outstretched glove and into the bottom corner of the net.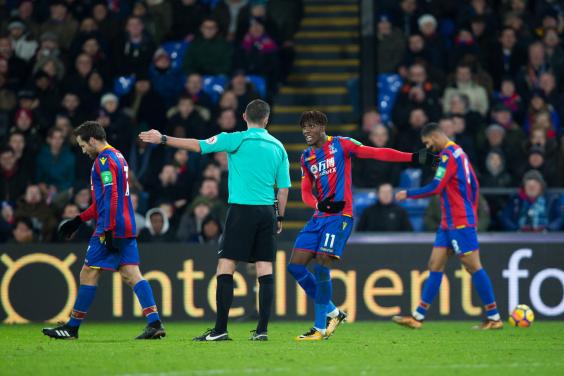 The second, four minutes later, was about foresight and precision. Jack Wilshere had the ball in the centre circle so Sanchez sprinted in behind, trusting his team-mate to find him with his pass. Sure enough, the pass was perfect, and Sanchez took it on his right thigh and touched it into the net.
This is the Sanchez that Arsenal signed for £30m in 2014, and for whom Manchester City offered double that in August. The one concern, though, is whether his behaviour this season has so alienated his team-mates that his presence does more harm than good. The fact that not all of his colleagues celebrated his goals with him – a fact pointed out by Thierry Henry on television afterwards – could suggest as much.
What made Sanchez's contribution so vital was the fact that before then, Arsenal looked again like they struggled to turn chances into goals. They dominated the first hour but only had one goal to show for it before the Sanchez double.
The task for Arsenal from the off was to pick their way through Palace's rigid two banks of four. It took some time, in the cold, for them to find the rhythm of their passing, but Palace never did much to disrupt them either.
The opener came when Jeffrey Schlupp tried to head out Ozil's free kick but the ball came back to Alexander Lacazette on the right hand side of the box. Speroni could palm away his curled shot, but only into the path of the Shkodran Mustafi, sharp enough to slide the ball past Martin Kelly and in.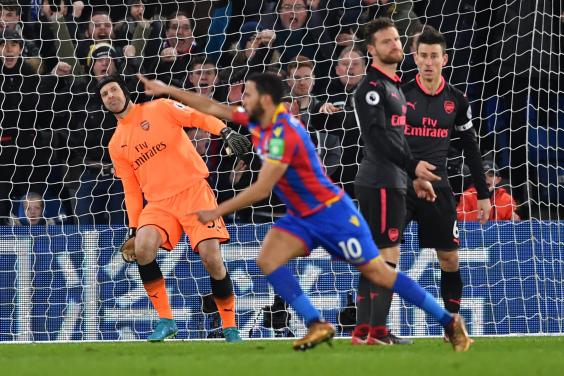 Arsenal pushed for a second and Sanchez, growing into the game, nearly set up Ozil with two brilliant passes. That inefficiency, at both ends of the pitch, is Arsenal's current curse. And it cost them just four minutes after the restart, as they conceded a painfully preventable equaliser.
Schlupp knocked a pass down the left to Zaha, running into the corner with nowhere to go. But he span sharply, confronting Chambers, who did not get tight enough to him. Zaha made some space with a stepover and darted down to the byline. He crossed – too easily – with his left and Townsend popped up, unmarked inside the box, to put the finish into the bottom corner.
This was Palace's best spell of the game, although it did not last long and they were powerless to stop Sanchez's double. Once they were 3-1 down they launched another push, and it got them half of what they needed.
It was the introduction of Bakary Sako, of all people, who got Palace back into the game. He gave them an extra presence up front, curling one shot over and then having another deflected just wide. From Townsend's corner, Tomkins got up in the box and nodded the ball in. That gave Palace four added minutes to make it 3-3 but Arsenal, having let one lead slip, were not going to do it again.